Prom was on Saturday!
Here
are pictures from the Grand March taken for the St. Cloud Times :)
The whole day was so much fun! I made dough for (German) pancakes before I went to Laura's house where we got ready together. I think I arrived at around 1pm and I took a shower right away :D Since our water heater was broken I wasn't able to take a shower on Friday! After that we both started to do our hair - Laura had already started to curl here hair when I came and I twisted my hair (strand by strand) and used bobby pins to put them up. That way my hair got even more curly :) I sprayed them again with water and put a towel on my head so that I won't drip on the floor.
After that I put lotion all over and started my makeup.
We were ready to go taking pictures at 4pm but we visit Laura's neighbor very quick to show her our dresses.
Here we are with her neighbor :)
Because it was raining a little Steph had the idea to go to the
library
instead of
Munsinger Gardens
. The library has huge windows - we would get a lot of light - so that's why we went there. Steph wanted to take our pictures but Obadiah started crying while she was getting my flower (corsages) so she stayed home. Laura's mom had a lot of funny ideas for the pictures:
'Normal' ones in the entry way where they have big blue peaces of glass with very pretty pictures on them (they kind of matched our dresses)
in the glass elevator
us sitting at the desk, working with the computers and having big headphones on
sitting in the reading corner on very comfy couches, legs on the table and reading books that - again - were matching our dress color
in a corner between the glass front and a bronze looking wall, me leaning at the glass and Laura at the wall

walking down the stairs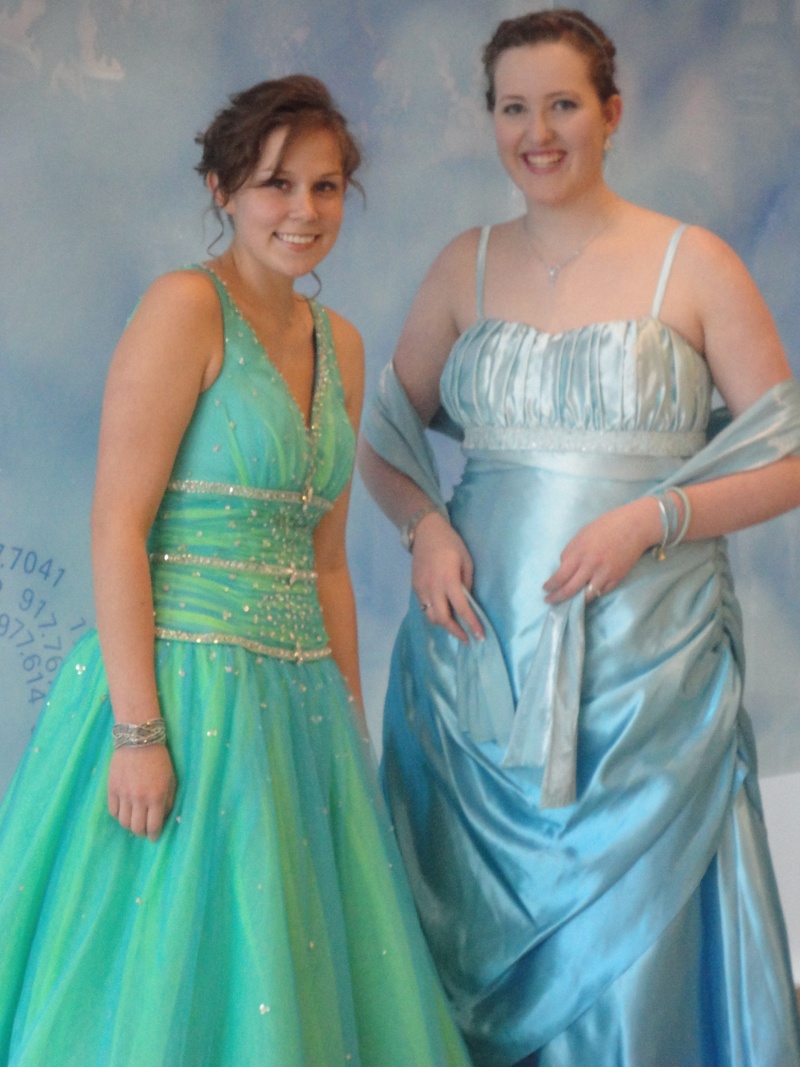 Normal in front of the glass things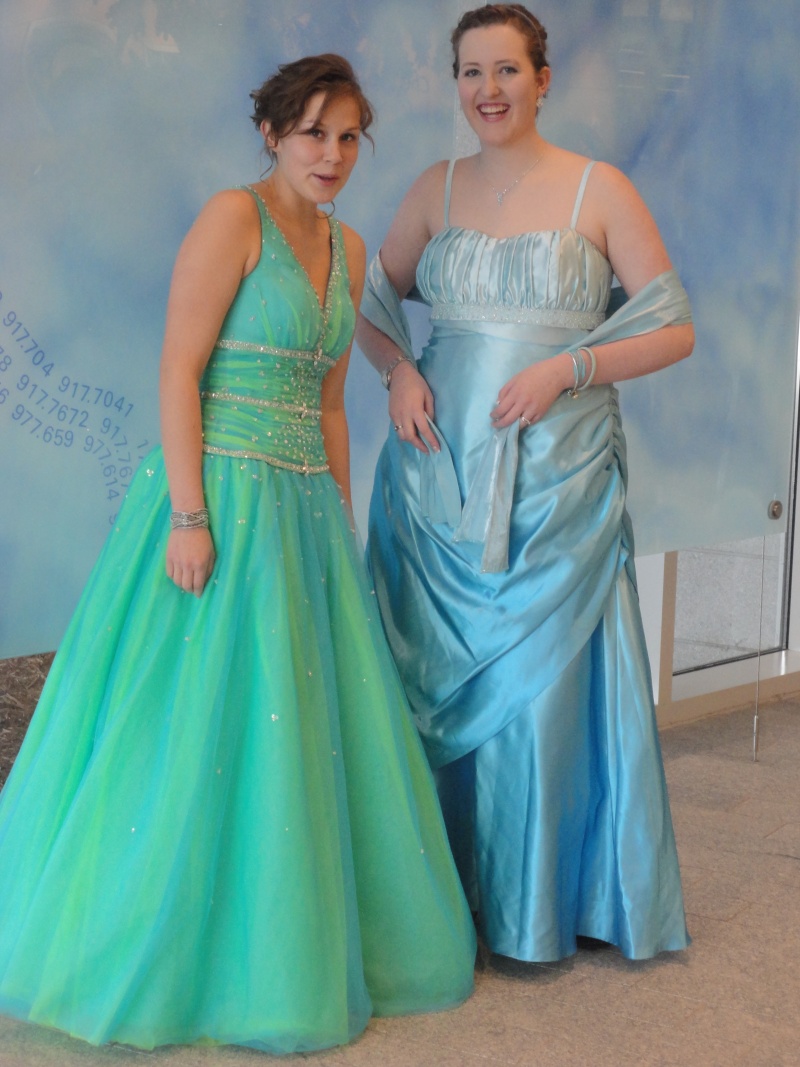 And a little further out so you can see the dresses better
"Working" with computer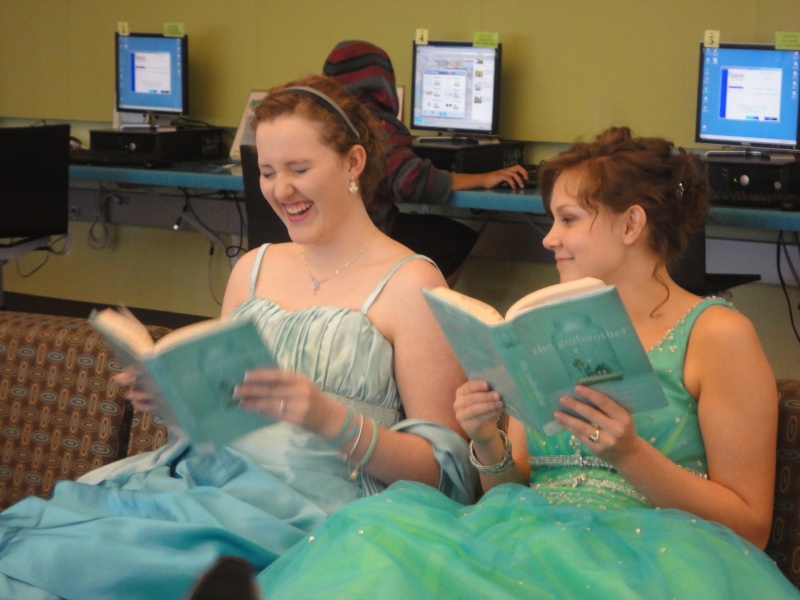 It was funny :)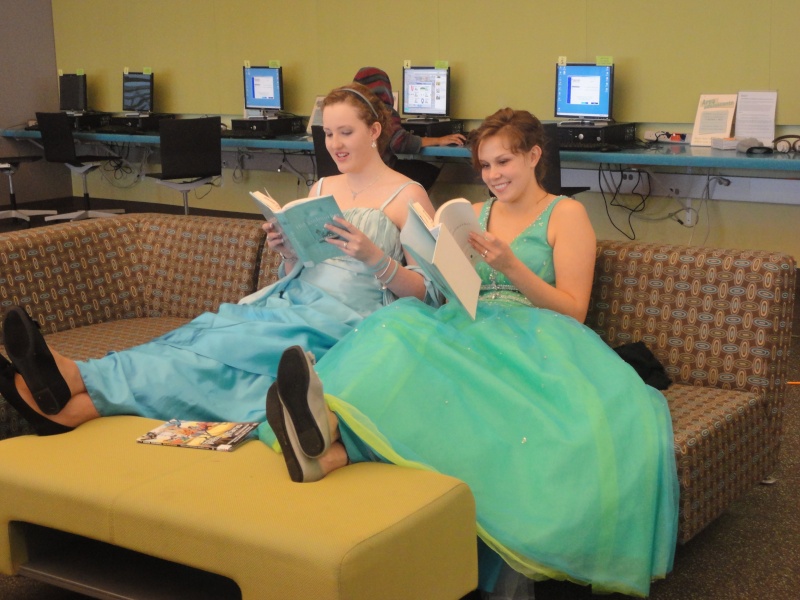 And again with the books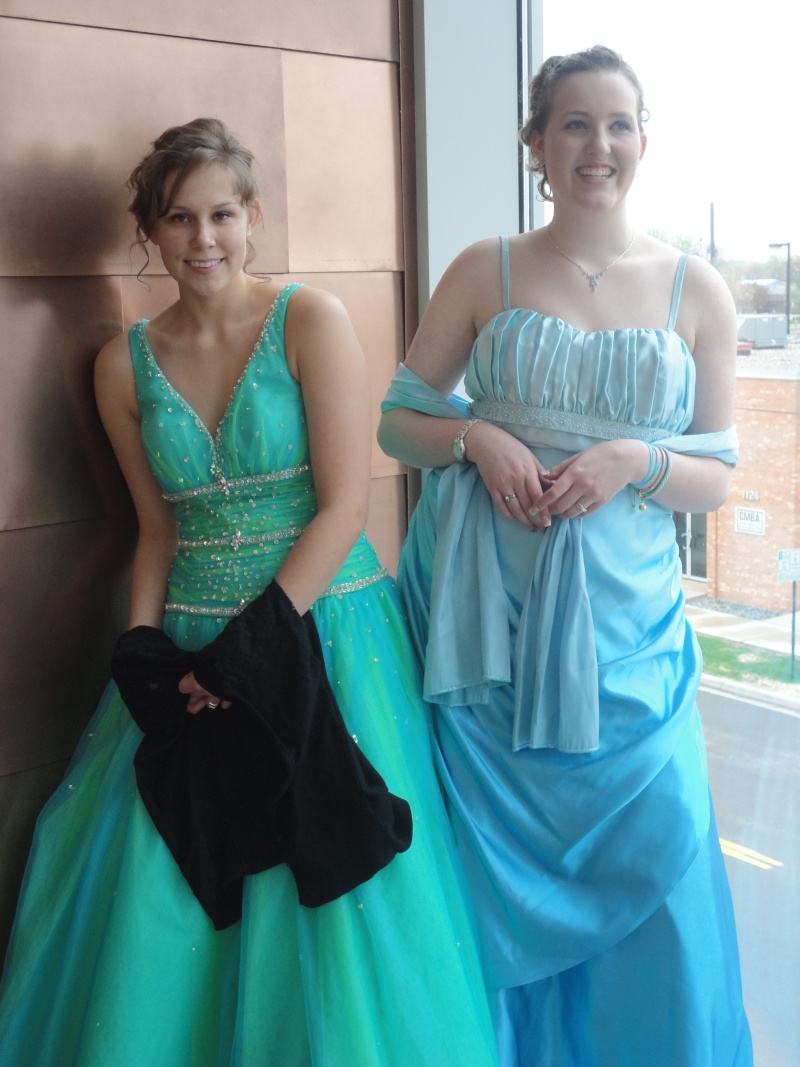 Leaning at the window and wall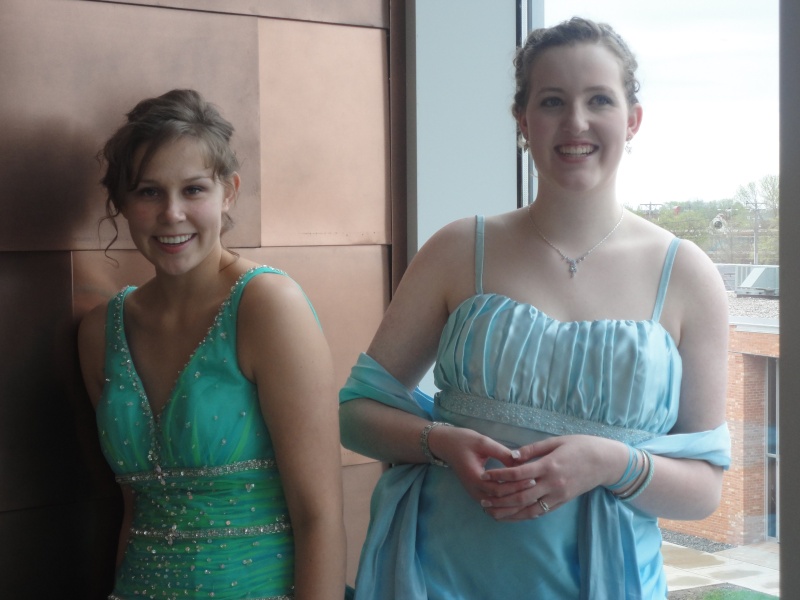 A little closer
After that we went back to Laura's house so she could get her car and we then went to the Grand March together (her mom and brother stayed home and came a little later so they don't have to wait there forever).
Her dress is sooo puffy :) She said it was very hard to drive!
There we met all the other people already waiting in line.
Jillayne and me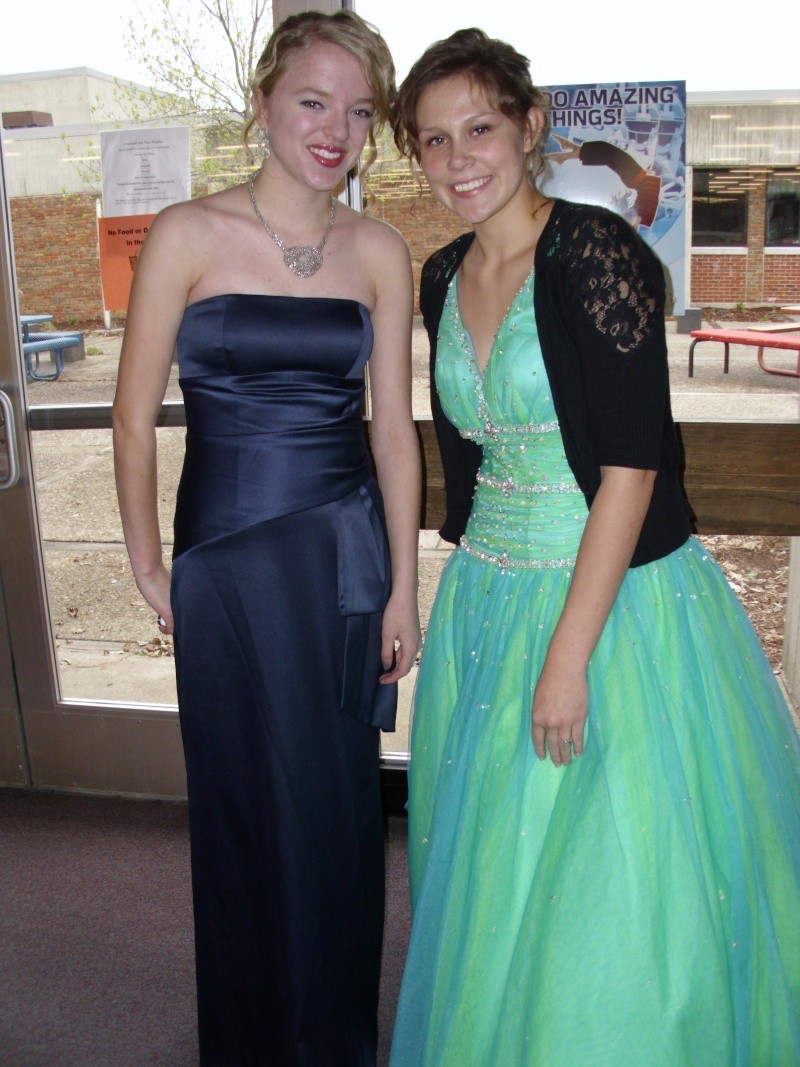 Jillayne and Laura
After that we went home to my place very quick where Steph took some more pictures and we also picked up dough to make German pancakes at Laura's house. Steph posted the pictures on
facebook
!
So then about 5 minutes later we went back to Laura's house changed out of our dresses and into comfy stuff to make the pancakes so that out dresses don't get ruined!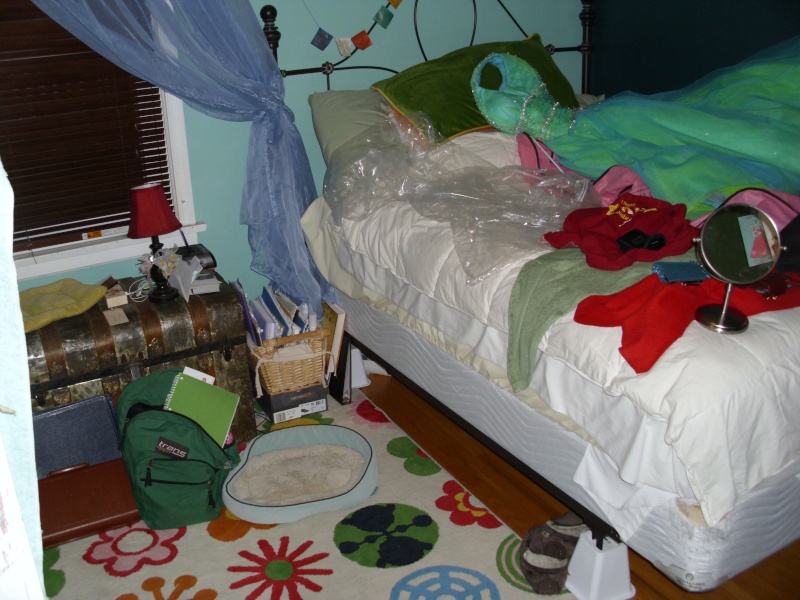 Laura's room - just a little chaos after our 'attack' :D
The pancakes were great! We had berries, applesauce, sirup, granola, fruit with yogurt and cinnamon&sugar with them!
Because I love sweet stuff pancakes is basically the only thing that I ever cook when I'm hungry so I memorized the recipe and prepared the dough before I left to Laura's house, but I forgot it at home so we stopped by to pick it up :) Our German pancakes are a lot thinner than American ones and in general look more like crêpes.
Here
is a picture that I found online that looks pretty close, we didn't take any :D
After that we got ready again and Laura's mom took us to the dance.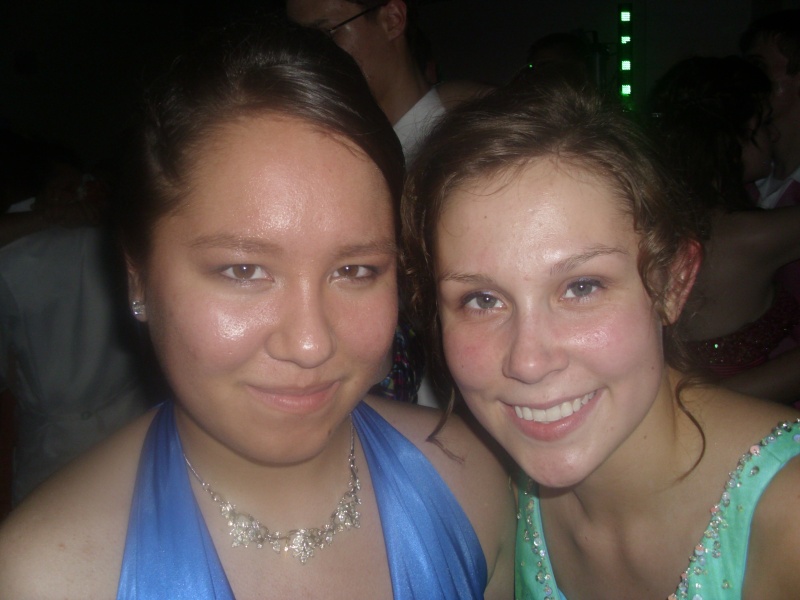 Sally and Laura
It was so hot in there that my lens was all foggy - that's why I didn't take a whole bunch of pictures...
It was sooo much fun getting ready with Laura! We listened to 'Mamma Mia' almost the whole time, so that's why I picked Dancing Queen as a title :)