Graduation was awesome!
In case you couldn't watch it and you really want to you can click on 'alt play'
on this page
:)
I can't believe I'm done with my high school year now! It was so much fun getting to know all these people and to see what school in America is like.
It's also really weird to already have summer vacation now since they start in 2 months in Germany and I'm really not used to getting out of school this early :D
Anyway, the graduation ceremony was great and I totally love the speeches!
The senior speaker Adam Logeman
On Thursday morning we all met at Apollo at 8:20 for the senior breakfast and the slideshow and we then went to the Civic Center to rehears the ceremony - how we were supposed to walk, what order, what to do at what point of time, stuff like that. When we were done it was about noon and Tony, Sally and I went to have lunch together at an Asian restaurant. It was so much fun! Since Tony is an exchange student from Japan and Sally's mom is Japanese, Sally and Tony usually talk Japanese to each other and it's just so funny to guess what they are talking about :D
We then went back home and at 7pm we had to meet at the Civic Center again to line up. The ceremony actually started a little late I think and lasted about two hours. Each person had a card with their name on that we handed the teacher that was supposed to read our name. I crossed my real name out and spelled it KAH-TA-RINA BOH-NEN-CAHMP (instead of Katharina Bohnenkamp) so that she knows how to pronounce it :)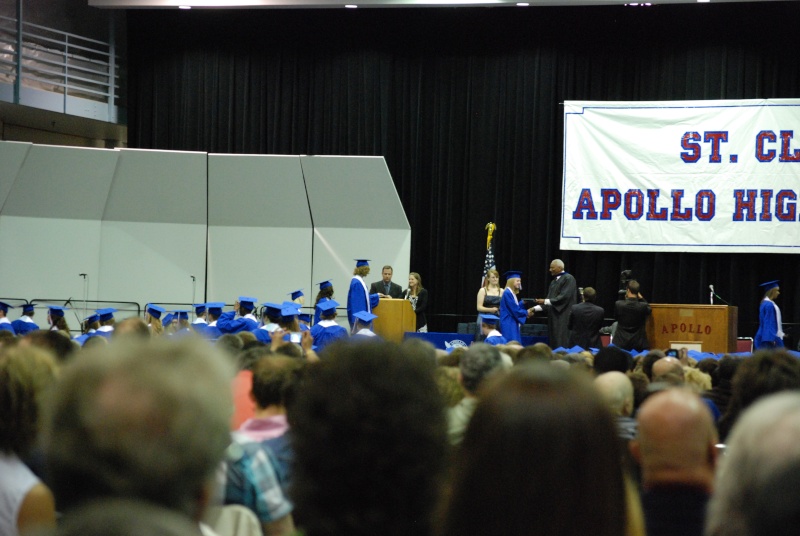 Giving her my name card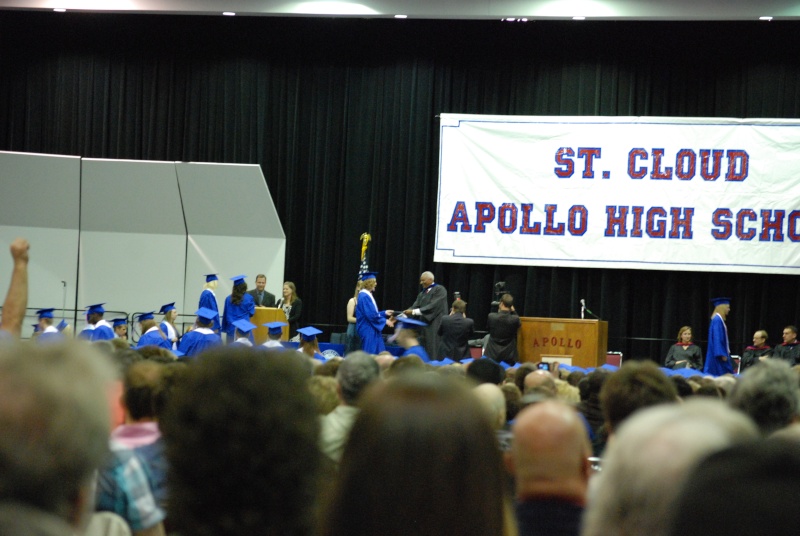 Receiving my certificate (instead of a diploma)
Since I am an exchange student and by far didn't get enough credits to really graduate I got a certificate instead of a High School Diploma :)
After that we all met outside in a different hall (were we lined up alphabetically before the ceremony) to congratulate everybody and to take pictures.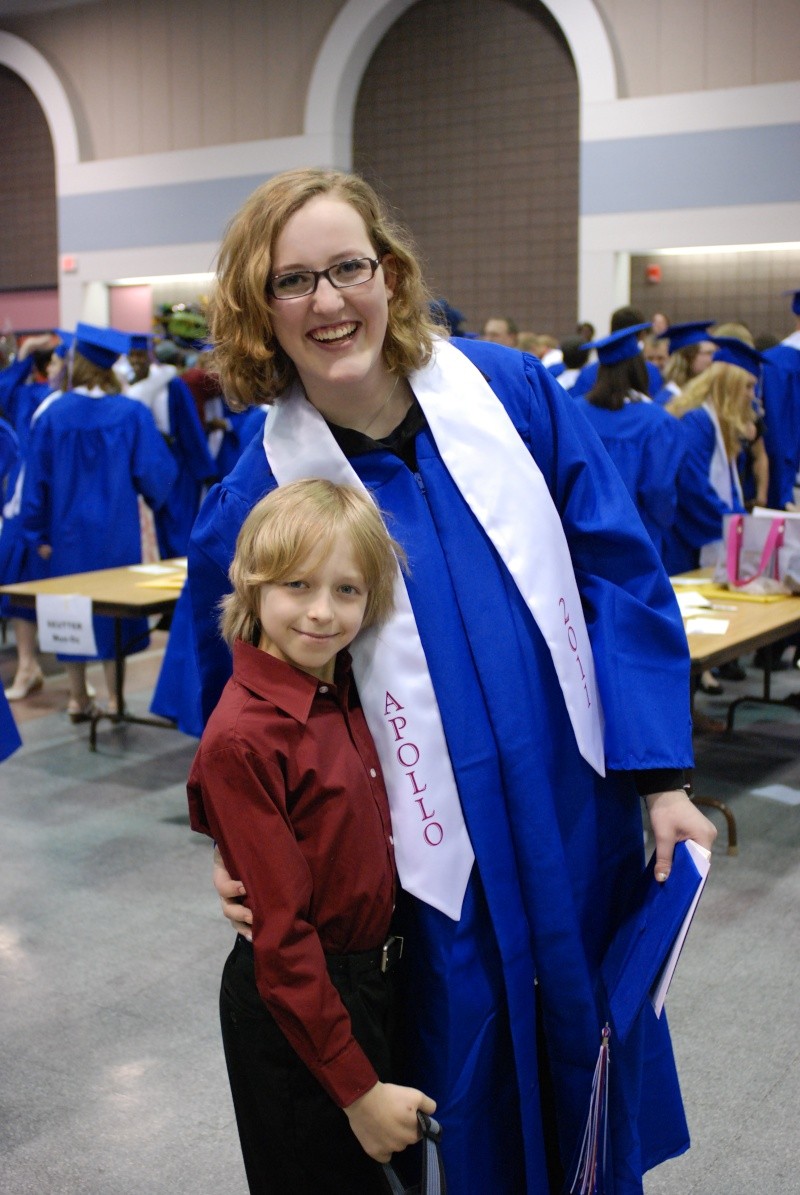 Caleb and I after the ceremony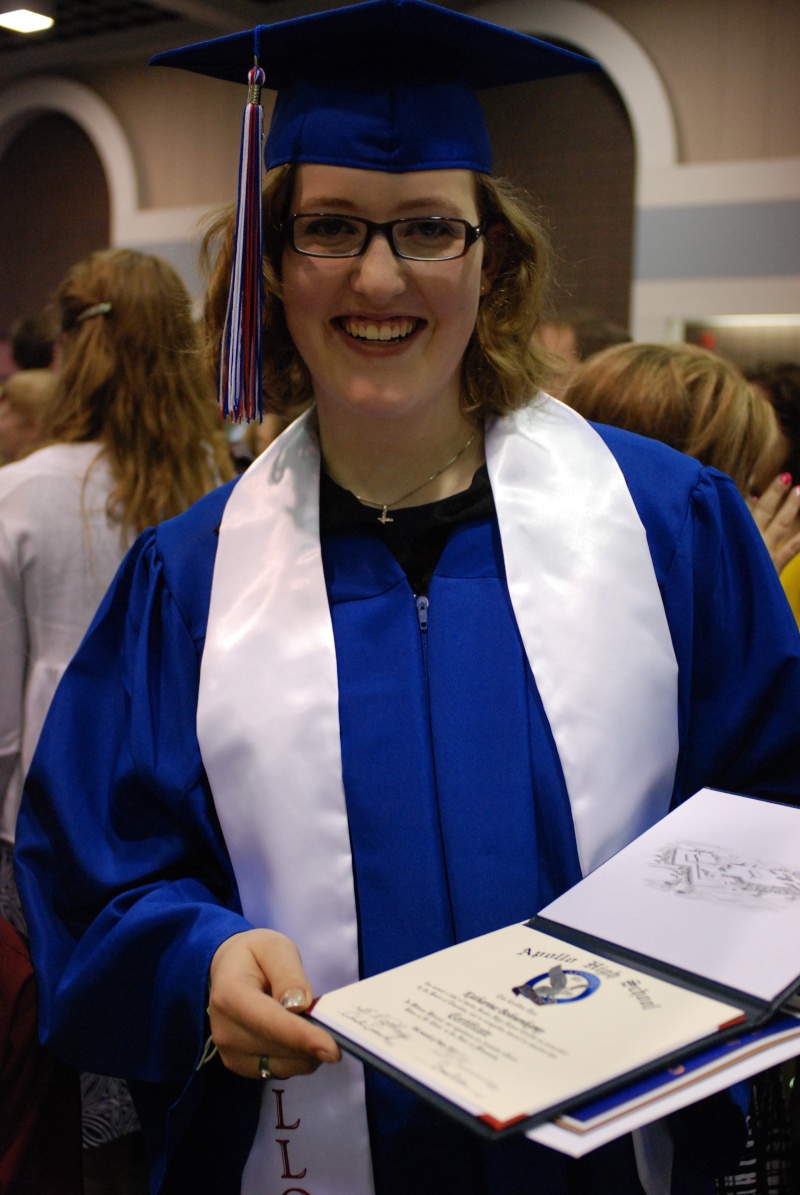 My certificate
And again!
We got a very pretty case for the diploma and certificates with "St. Cloud Apollo High School" on the front, then when you open it Apollo on the top and the certificate/diploma on the bottom. My certificate says:
This certifies that
Katharina Bohnenkamp
has earned a total of twelve Senior High School Credits as prescribed
by the Board
of Education, and in recognition thereof is awarded this
Certificate
In Witness whereof, our signatures are hereunto affixed.
Given at St. Cloud, in the State of Minnesota,
This month of May, 2011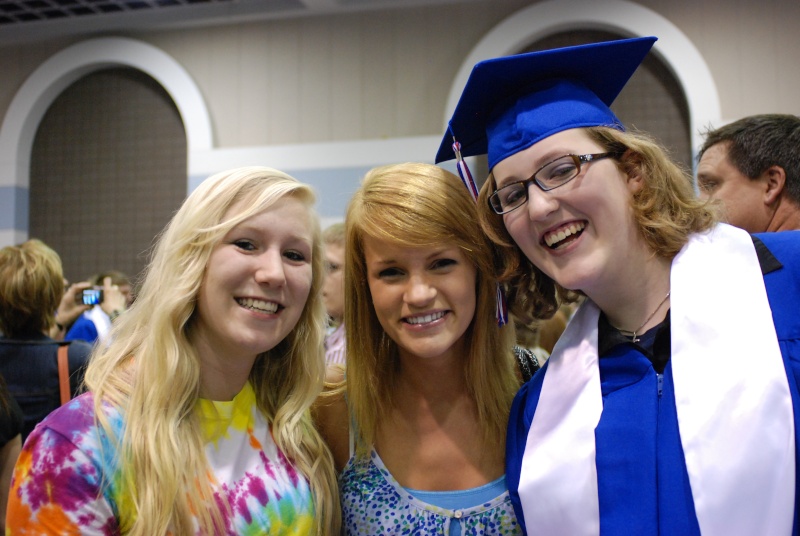 Elle and Kim came :) SO nice to see them there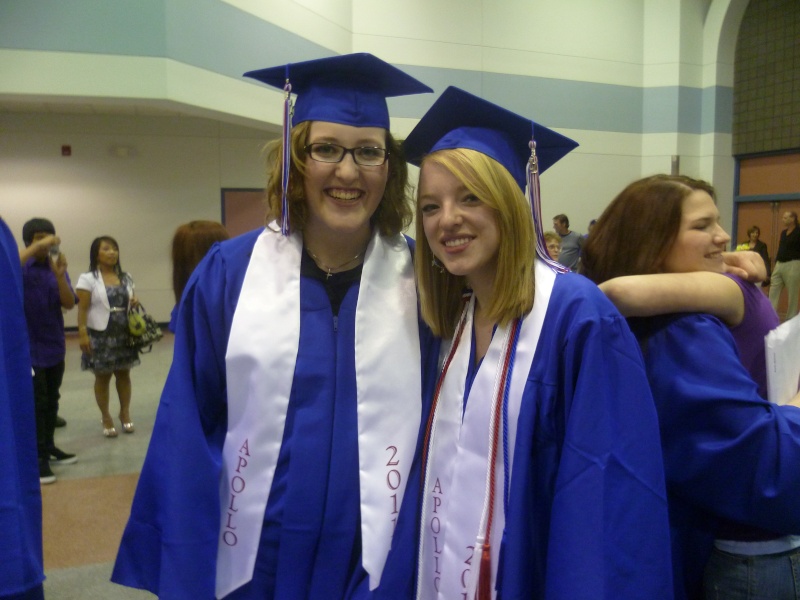 Jillayne :)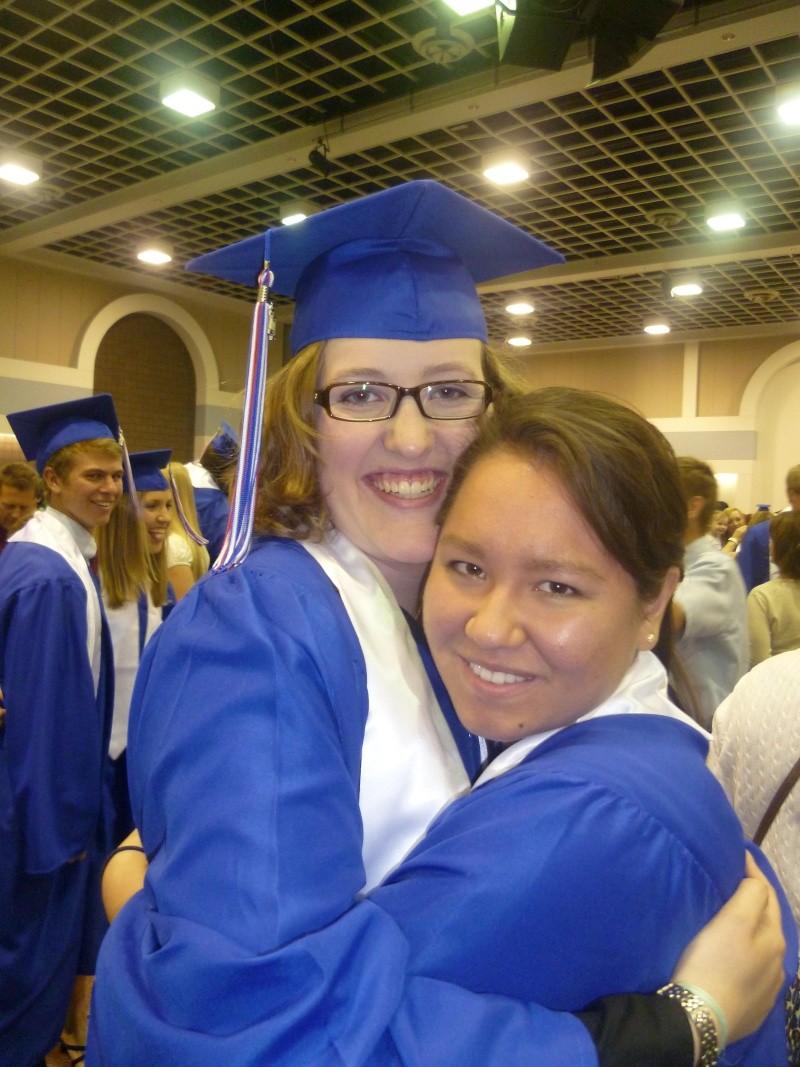 Sally - my funny half-japanese friend :)
Tony - my full-japanese friend :D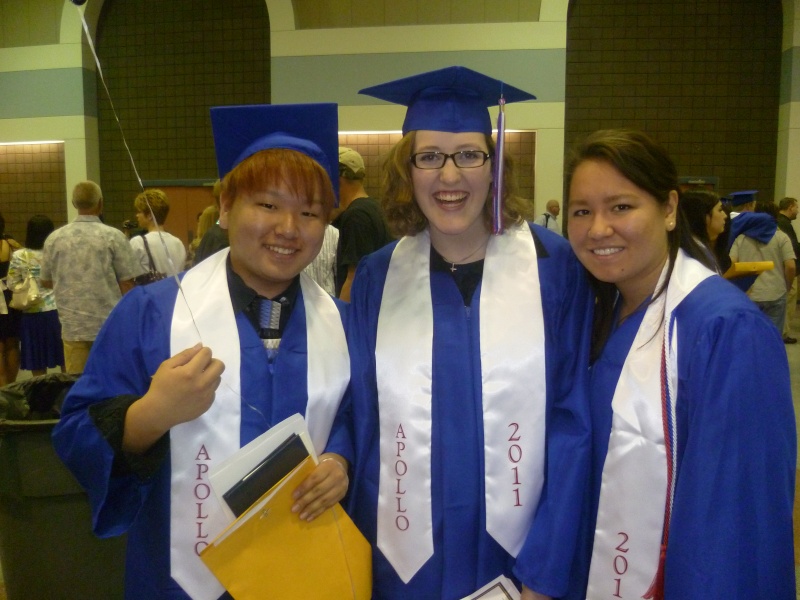 Tony, me and Sally
Melissa, Jillayne and Allison
Savannah and me
Kenzie and me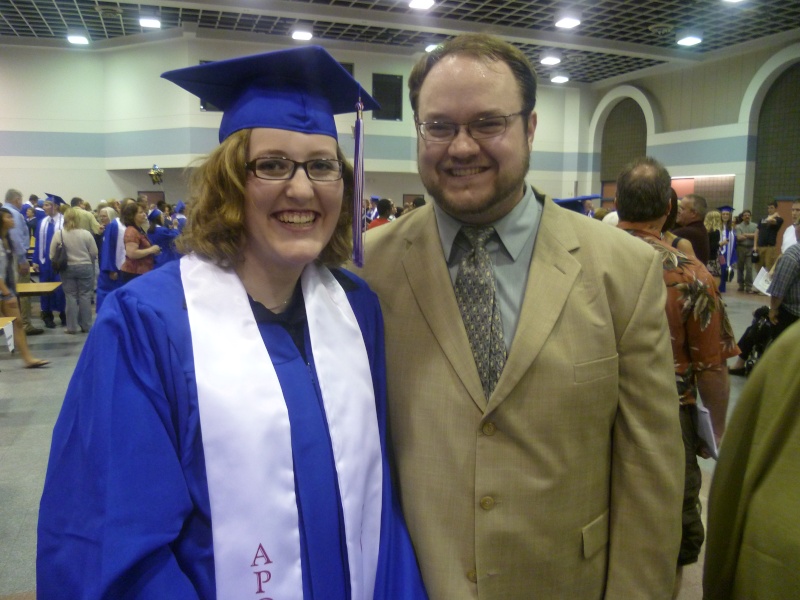 And my choir teacher :)
After that we drove back home so I could change clothes and Mitch then took me to Apollo for the Senior Lock in. It was soooo much fun! When you arrived they gave you 10 tickets and 10 'Eagle Bucks' (our school mascot is Eagle...). With every ticket you could play games to win more 'Eagle Bucks'. Every 'Eagle Buck' brings you 10 tickets but you also could buy a raffle ticket for 10 ' Eagle Bucks' or prices. I bought about 22 different raffle tickets and a $5 gift certificate for
Crafts Direct
(that was 10 'Eagle Bucks'), a bracelet (20 'Eagle Bucks') and 2 "Free Pancake Dinner with Beverages" gift certificates for
Perkins
(20 'Eagle Bucks').
At 2:30am the games and karaoke stopped and they gave away all the prizes, we played Deal-or-No-Deal and there was a Hypnotist Show. At 5am it was over and Sally gave me a ride back home. So I was home at 5.30am and I eventually fell asleep at 6.20. It was crazy but lots of fun :)